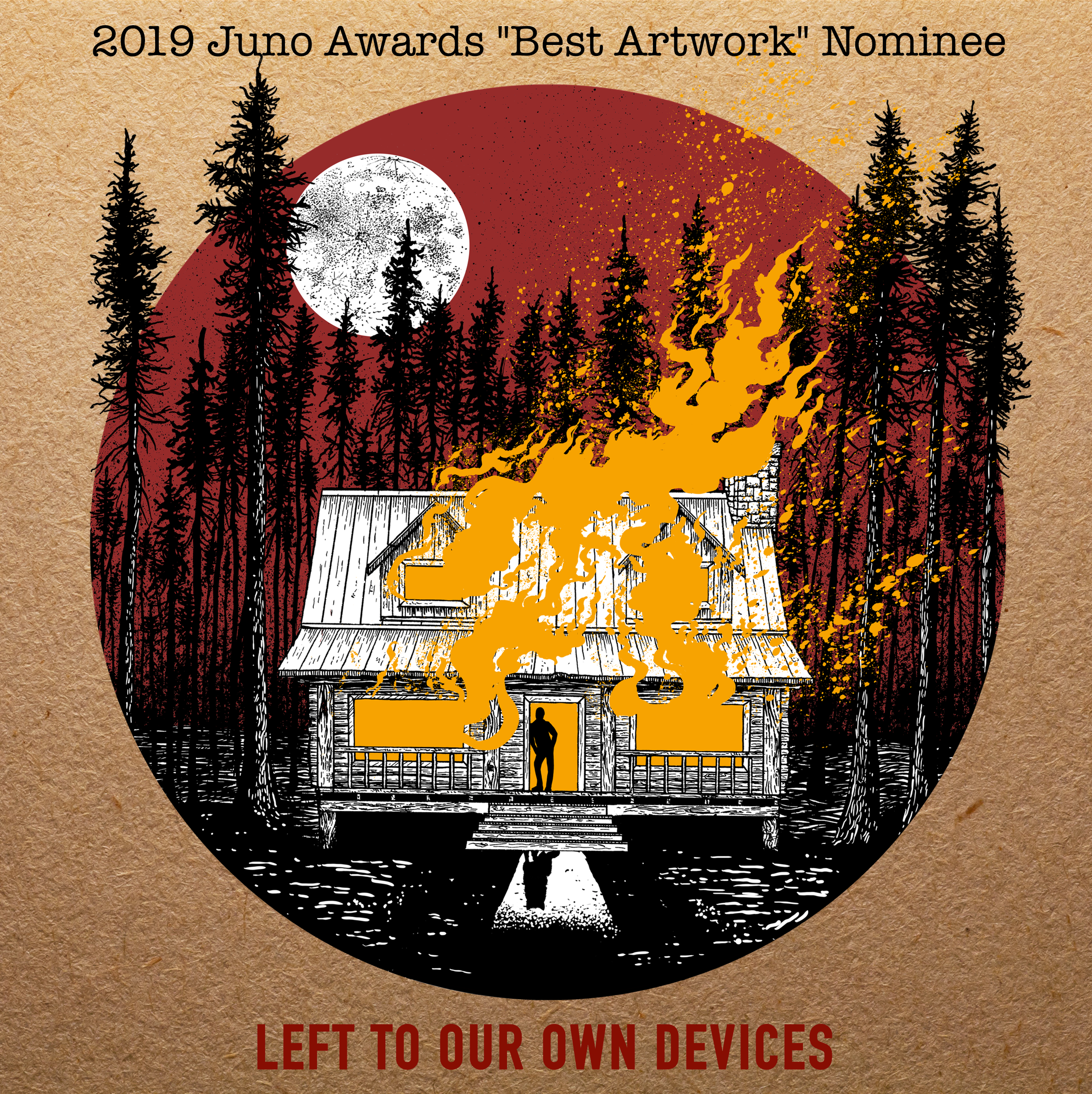 Left To Our Own Devices has been nominated for a 2019 The JUNO Awards!!! As a 100% independent artist it is truly an honour to be recognized with this nomination for Canada's highest music award. [Long post...] 
Does this mean I need to add "Nominated Art Director" to my resume? The all-indie thing also means that I (Gareth Auden-Hole aka Jack?Pine) had my hands in literally everything that went on with this album and am still basically the sole driving force behind the project as songwriter, producer, engineer, mixer, manager, art director, booking agent, promoter, distributor, and everything else (yes, there's even more). I was in the drivers seat from the start, crashed hard when we had to start the record over from scratch, but picked up the pieces and got.it.the.f**k.done. It was a loooong haul and there is so so so much of ME that went in to this album and so I could not be more proud of this achievement. 
All that said, Emil Mateja really deserves the bulk of the credit for this nomination as he is the extremely talented artist who created everything that's interesting about this packaging. He was a pleasure to work with and the art and illustrations he created for the cover and interior of the album sleeves are the true source of this recognition. He took my ideas and patiently moulded them in to a strong concept, taking all my last minute additions and strange stream of conscious thoughts in stride. Then he knocked it out of the park with a bold, striking, simple cover image that is exactly what I wanted and perfectly compliments the music it represents. As much as I had my hopes high for a roots music nomination, this means no less to me and I'm proud to share this nomination with Emil. 
Emil's cover art is the striking image of a woodsman standing in the doorway of his burning log cabin surrounded by Jack Pine trees. The shadow of the man that the fire casts is that of a wolf - he is the lone wolf, a captain going down with his ship under a full moon in blood red skies. On the back of the record and on the disc itself is a crow with a smoking match, continuing the ongoing battle between nature and man. And inside are a handful of other little illustrations Emil made to pretty up the lyric book (Cardinal lovers left behind, rats eating family photos, and fish over fire).Sean Hyatt Art deserves credit for his awesome "Lone Wolf EP" album art that is reprised in the interior lyric book. 
The cover art was silkscreened on to raw cardboard sleeves and more than anything, the overall design was focussed on simplicity and quality from the start... I commend the jury for nominating a design like this considering that much of what I saw from previous nominations looked like very elaborate "special edition" style packaging that must have cost a fortune to produce (even ours wasn't cheap... but we sell 'em cheap if ya wanna buy one). 
Tristen Coffey and his crew at Precision Record Pressing put up with a lot of hassles with my inexperienced art layouts for the vinyl manufacturing (which really really look great!). And Superlink Communication & Printing Inc. did the CD manufacturing. If we add Stuart Rutherford Mike Essoudry Martin Newman Anders Drerup Al G Wood Chris MacLean Kelly Prescott Pat McLaughlin, Kaylen Irwin Curtis Chaffey Dean Watson Philip Shaw Bovathat's pretty much the entire credits for this completed album.. a very small list of incredibly amazing people (mostly the musicians on the recordings) that helped to make my life feel quite full at this moment. Finally, I could never have afforded to record and manufacture the CDs, LPs, Tees, and Trees without the generous support of City of Ottawa and the many many fans that contributed to our PledgeMusic presale campaign 
A heartfelt thanks to all of these people as well as my family, friends, fans, and especially Martin Foucault for standing by, putting up with me, and encouraging me through all the hard work that goes on behind the scenes. 
ps: Limited vinyl copies are still available for sale (maybe 150 left?) - get them from www.jackpinefire.com/store.